Race Day Guidelines, Corpo Jumble 2018
View Route Map - 3 Km & 1 Mile
View Route Map - 5 Km
View Route Map - 10 Km
You may check your bib no. here:
https://www.runizen.com/e/t10-sports-corpo-jumble
Event Date:
19
th
August, 2018, Sunday
The running kit (consisting of Race Bib number & t-shirt) will be sent to respective companies latest by Thursday 16
th
evening. Companies with smaller groups may collect the same on race day morning between 5 & 5:30AM
Venue address:
Start Point:
International Tech Park Gurgaon, Near Sec 59, Off Golf Course Extension Road, Gurgaon
Google Map Link for Venue:
Click here for Google Map link
Try to reach venue 30-45mins before your respective start time.
Assembly Time: 5:00AM
►
5:30AM-
Green Globe Pledge with Treeman (1000 saplings will be distributed)
►
5:30- 5:45AM-
Zumba Warm-up
►
5:45- 5:55AM-
Route Instructions
►
6:00AM-
Flag off
Race Route:
►
View Route Map - 3 Km & 1 Mile
►
View Route Map - 5 Km
►
View Route Map - 10 Km
Race starts:
►
1mile (1609 meter)- 6am (turn back from 800m)
►
10Km- 6:15am (turn back from 5Km)
►
5Km- 6:20am (turn back from 2.5km)
►
3Km- 6:25am (turn back from 1.5Km)
Race Instructions:
►
Don't exchange bibs.
►
Don't go on the track after you finish, wearing your bib. Remove it, if you want to help your runners on the track.
►
Reach at the venue, 45mins in advance. Parking to assembly area walk may take 10mins.
►
It's 5Km flat course- clean, pollution & traffic free. You will enjoy it.
►
You will be guided by route markers, volunteers through the route and to reach the assembly area.
►
En-route water, energy drink and first-aid are available. We are serving water in disposable glasses only.
►
Loads of photographs will be clicked while you are running!
Post Run Activities:
►
Cool down & foot massage in recovery zone by experts from Urban Akhara
►
Medal for every finisher
►
Wholesome breakfast
►
Fastest (men & women, top 3 in all race categories) will be rewarded.
The gift hampers from Decathlon for the podium finishers in all race category will be distributed on a later date. There will not be any age category wise prizes.
►
The winner of the T10 Sports Corpo Jumble Cup will be announced in the coming week after calculating performance and participation points.
►
Participation trophies to all companies having 10 or more participants will be given after the run is over.
►
Trophy for max participation from a company & max women participation from company will handed over during the breakfast.
Check your timing at :
http://runizen.com/results
It will be available within 24hrs.
Dispose all the trash, disposable glasses and bottle in dustbin. Or, pass it on the volunteers. Help us keep the race route clean. As usual, our team of volunteers will clean the park after the event is over.
Route Map - Corpo Jumble Run
Route Map - 3 Km & 1 Mile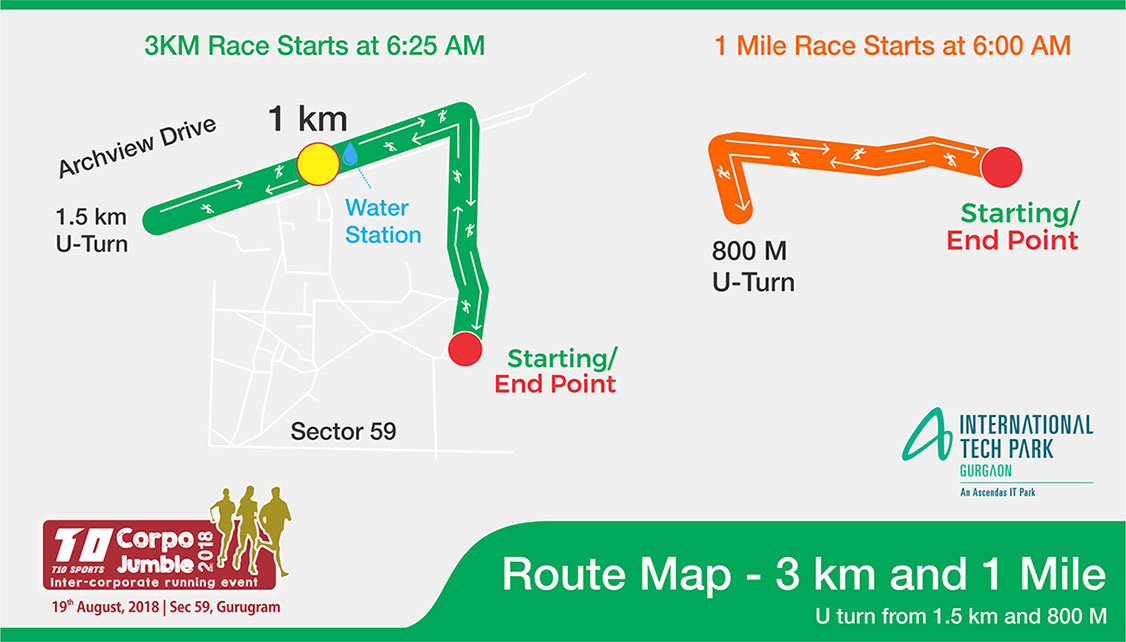 Route Map - 5 Km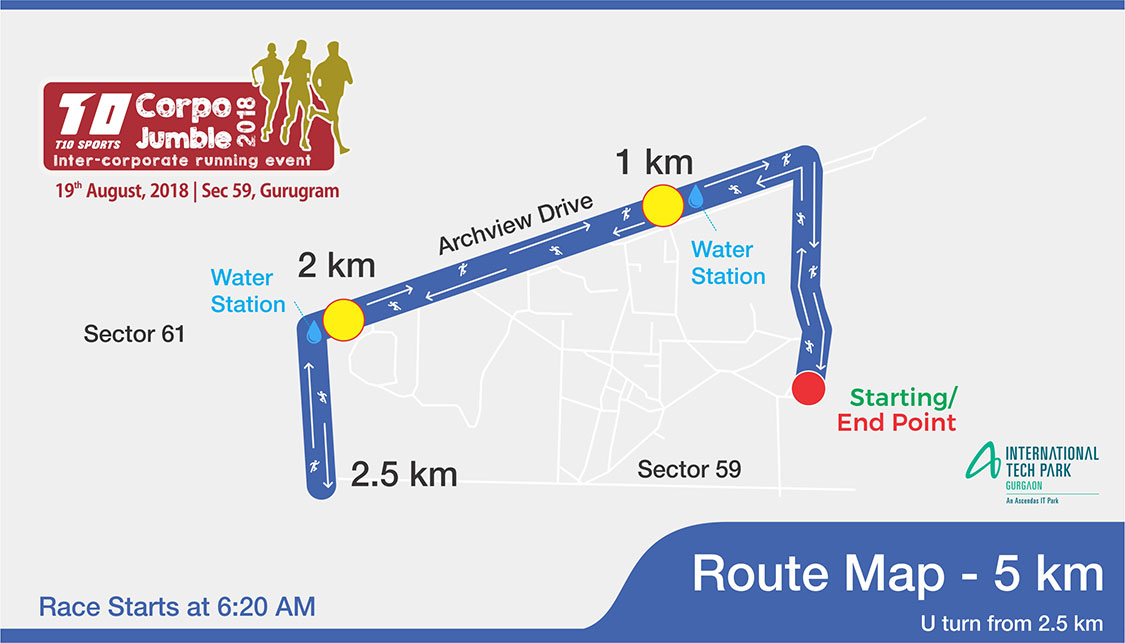 Route Map - 10 Km