T10 Sports Corpo Jumble 2018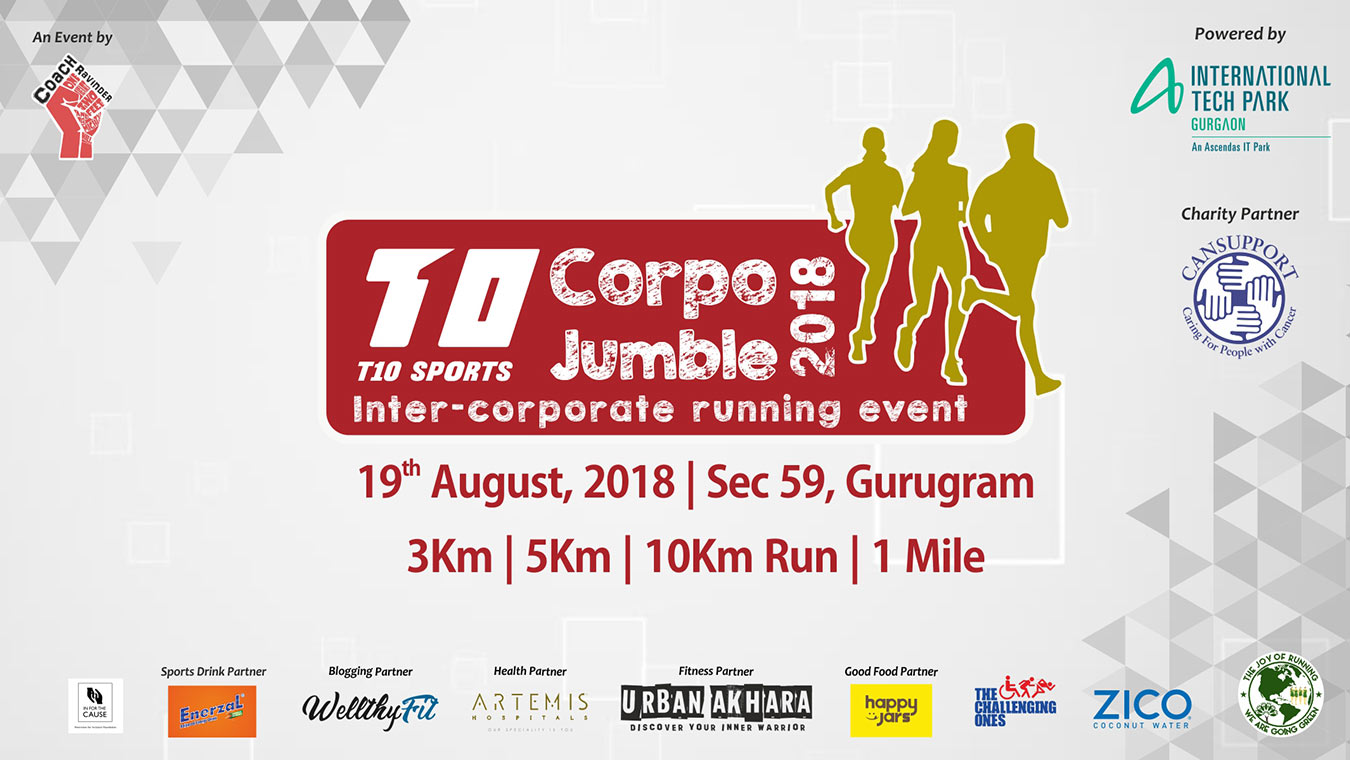 Registration link:
Click here for Registration
The CorpoJumble Event is a high energy Inter Corporate running challenge between corporates giving your team an opportunity to get together, head out of the office and foster fun in the workplace!
T10 Sports along with Coach Ravinder are taking fitness to corporates in this brilliant format of short distance races, wherein anyone can come and run without much training! But once your team registers, there is no way they will take their fitness lightly ever again.
The key idea to a successful corporate challenge is inclusion – to inspire as many employees possible to come out, chose a distance, give it his best and take something positive from the running challenge that makes a great experience off the four walls of work talk and workstations!
In its 4
th
year, CorpoJumble is all about Performance and Participation. Last year there were 1000+ runners from 30 corporates all over NCR region. The 2018 edition will be help on 19
th
August.
Avail time bound flat discounts on registrations.
►
1 Mile (1609m) Run- 1000/-
►
3Km Run- 1000/-
►
5Km Run- 1000/-
►
10Km Run- 1000/-
Last Date of registration is 10th Aug 2018
Also check this link for size chart images-
https://www.townscript.com/e/t10-sports-corpo-jumble-2018-342101
The following small distances can be chosen from::
►
1 mile
►
3km
►
5km
►
10km
Day & Date:
Sunday, 19 August 2018
Points to Remember:
►
Runners are required to register individually but not as a team.
►
This is not a relay race.
►
Corporates get points for maximum number of employee participation
Takeaways for Runners:
►
T-shirt
►
Medal
►
Post-run Breakfast
See you all on a hot and humid July morning for this running escape and adventure outside the office!
Google Map link:
Click here for Google Map link
Registration link:
Click here for Registration
Facebook:
https://www.facebook.com/events/464012414033110/